Established in 1896, Windsor Tent & Awning is independently owned and operated by Manny Farao and we fluctuate between 5-15 employees during our busy season.
About Manny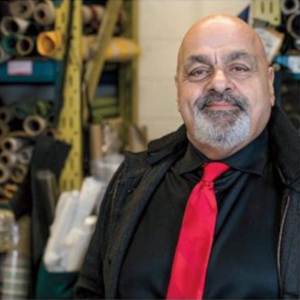 His customers know the owner as "Manny": their buddy who helps make their backyard dreams come true.
And he can do the same for you. You spend thousands of dollars on backyard upkeep, why miss out on it because it's too hot outside? With one of the canopies from Windsor Tent, you'll be basking in your backyard glory all summer long.
"When a customer comes in or I go to their home, the first thing they should expect from me is friendship. Right away, it's not really a business-like atmosphere. I like to get along with my customers," he says.
Manny loves to see what his creative customers come up with for their backyard bliss. He's seen it all at this point. "Some people have actually built the canopy around their pool atmosphere!" Manny tells us about the intricate layouts of outdoor kitchens, hot tubs, TVs, and double loungers for those who like to nap outside. "It's more of a living space than anything else," he adds.
Manny's premium set-ups include exhaust fans underneath the awning and misters for the inside. On those especially hot days, just turn on the mist and it's just like visiting your favourite tropical resort. Windsor Tent and Awning has it all: drop screens to keep the critters out, automatic screens, retractable awnings and window awnings, ceiling fans or fandeliers to keep you cool, and new canopies for backyards. Now, they're bigger and better and make for a lot more summer fun.
The backyard excitement doesn't have to end when summer does – you can drop your vinyl walls and turn on your heaters or gas fire pits to keep you and your loved ones cozy and warm through the early spring and fall weather.
To add to the classic canopy colours, this year Manny has brought in oranges, reds, and earth tones. They've also improved the quality and made fabrics waterproof rather than just water repellent.
Manny is always testing the products in his own backyard with his wife – they never go inside in the summer. They're constantly refining their own space and pulling creative ideas from previous clients to ensure they're only selling the best. Manny has been around since 1983, back when he was part of 55 unemployed guys who got hired to build gazebos for the Festival of Nations. When layoffs came, they got rid of everyone except for Manny.
"Seven years later, the owner passed away and his wife sold me the company in 1990. The rest is history," Manny says. This April, it will be 36 years of Manny working in this business. This past January, he bought the building, giving Manny more flexibility to bring his customers exactly what they need to make the most of their backyards."